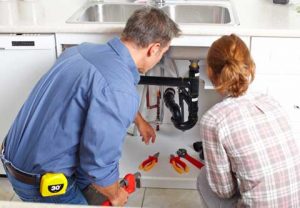 Heavily clogged or blocked drains can prove to be an untimely nuisance and can lead to flooding, damage to your external and internal pipework, and bad odors. Typically, drain blockage is due to the build-up of commercial or residential waste in the pipeline, and sources primarily from bacteria, grease, soap, hair, and food waste build up being continuously washed down the drains and collecting in the u-bend or the pipework. Frequently, we deal with clogged exterior drains, blocked showers, baths and blocked sinks.
As Randburg's best plumbers, we make use of many distinct ways of drain cleaning and have multiple ways of flushing the pipes to get rid of the accumulated deposits and waste. We utilize a chemical mixture designed to break the deposits causing blockage down and then use hot water at a high-pressure to thoroughly clean and sterilize the infected pipeline. The chemicals we utilize are very corrosive and thus extra caution must be taken and should just be used as indicated and by an expert.
Should you find yourself in a situation where you're not able to successfully remove the blockage on your own using off-the-shelf products, the chances are that you are going to require some heavy-duty cleaning power! We have the equipment and the technical know-how to have your blocked drains in Randburg sorted out promptly. We have an entirely mobile service which will be at your doorstep in a short time, within the same day.
Our Service – The involved process
We come well prepared to deal with any clogged or blocked drains, regardless of whether it is at your residential home, your office, or even commercial establishment. In every project that we work on, we carry with us all the latest tools and equipment to reliably provide a cost-effective solution to all your drainage challenges.
To begin with, we'll carry out a problem diagnostic so as to establish the cause of the blockage, a process we can undertake very reliably with the use of our CCTV drain diagnostics. In many instances, we can effectively get rid of the pipe blockage by utilizing the chemical process, industrial plungers or high-pressure water jets but in more complex situations, it may call for the removal and replacement of the infected pipes. We additionally use electromechanical cleaning procedure to unblock smaller pipes like those found in sinks and toilets. Regardless of the nature of the job at hand, its size or how complex it may seem, our professional team is qualified and experienced to address each one of your drain-related problems. We're also equipped to handle all emergency plumbing issues.
It is always advisable to talk to an expert or plumber when dealing with blocked drain issues. Avoid the possibility of having pricey pipe repairs by attempting to address the problem on your own. If you have overflowing drains, blocked toilet, or even a blocked sink, do not hesitate to call the specialists in drain unblocking in Randburg today on 087 551 0851.
Get in touch with us for all your emergency plumbing challenges.